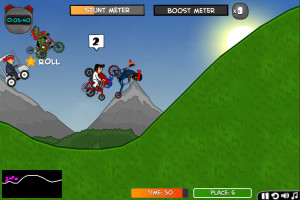 Cyclomaniacs 2 is stunt biking game in the same style as Bike Or Die or… others. I don't know if the genre has a label yet, let's call them MHIMWS – My Head Is My Weak Spot.
The basic premise is a sidescrolling racing game where your primary control is the rotation of your character. You also influence acceleration and braking, and there's a marginal jump ability, but brakes are hardly used and the jumping is really just to catch a little more air at the right times. Rotation effects how you land, the stunts that you do both on the ground and in the air, and whether and when you die. In other words, it's a game that's almost all about rotating in the right way at the right time – this is what makes it a MHIMWS, and not just a sidescrolling racer.
It's an amazingly full game for what it is, with a slew of interesting levels and minigames and varied challenges. Far from being all about speed, there are some wildly different tracks and boss levels as well as a few lobby games totally unrelated to anything else. The large and wacky cast of unlockable racers play very differently from one another and the game has enough substance to it to let you experiment with all of them – this is impressive in its own right, there are a lot of racers.
Cyclomaniacs 2 is the game which first convinced me that Flash games were just as viable as those for any other platform. Something which was, after all, not always the case: Flash was originally just a means of making your website look pretty. Interactivity was limited, and certainly not up to what would be needed for something like this. There are few Flash games on its scale, and we're now past the heyday of Flash gaming, so barring Phoenotopia 2 (fingers crossed) I'm not expecting any more to come.
Still, I'm grateful to have this one. It's just as much fun now as it was at release, and there's a sequel for anyone who can't get enough of it.