I give this one credit party just for being so early on the scene. Curator Defense was released in 2005, just shortly after the tower defense genre came into being. To put that in perspective: Desktop Tower Defense, which did a lot to popularize tower defense and the mazing sub-genre of tower defense, was released two years later in 2007. Curator Defense's closest contemporary was Master of Defense, a fixed-path tower defense game which, to be frank, was not as good and was also a commercial game. For a while there this was easily the best tower defense game available, and it's always been free.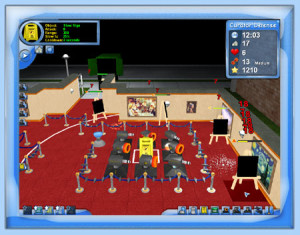 It's a "mazing" tower defense game, where you define the path for the creeps, as opposed to the fixed-path style of tower defense. Thematically, it pits you as the curator of a museum of quality fine art against hordes of awful incoming modern art.
If you are a fan of modern art… well, do your best to play this in good humor. It is very clearly tongue in cheek.